So a friend of mine pointed out to me yesterday that on my last blog post I was abandoning my family to go to Women's Conference but that in blog world it looks like I never came home lol. Well rest assured, I did come back to my family and I have been busy playing catch up ever since. Much of my scrapping and certainly my blogging has been on hold. I did find some time to scrap a few of my Project 365 pages though and it was so fun. I am thinking that I may just save up my week of photos and then make myself scrap them to share a post of my Project. It is just too hard to get my pics posted here every day lol. If you have noticed I rarely do get them posted daily. At the end of my post you will find a list of credits for the layouts - if that kind of stuff interests you. But hey... I have to tell ya that if you go to the end of my post you will find an image of just one of the many great kits that are available for scrapbooking Project 365 if you are doing the project too. Many of the kits would be great for scrapbooking everyday stuff too and best of all they are FREE! I am not sure how long the links will be available to download the kits so be sure to head over to
Digiscrap Addicts
soon and check it out. Oh and by the way... yes Women's Conference was wonderful! If you have never been or if you want to learn more about it there is information
Here
.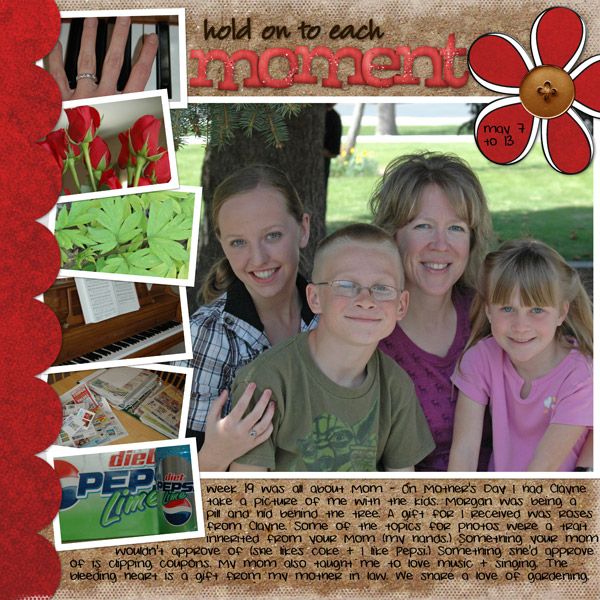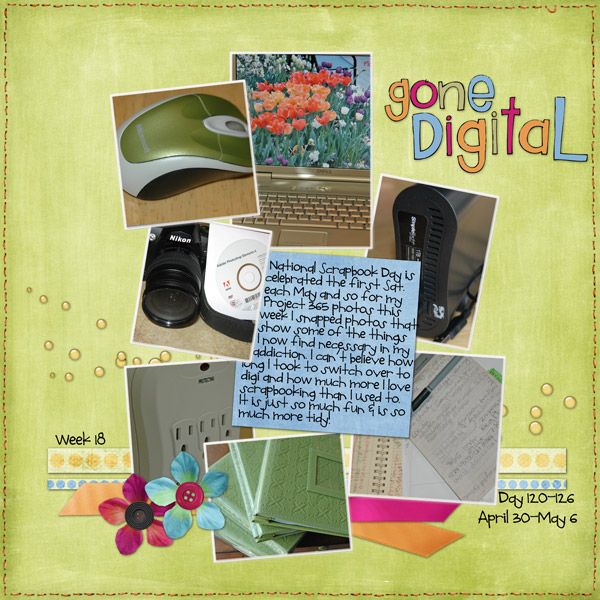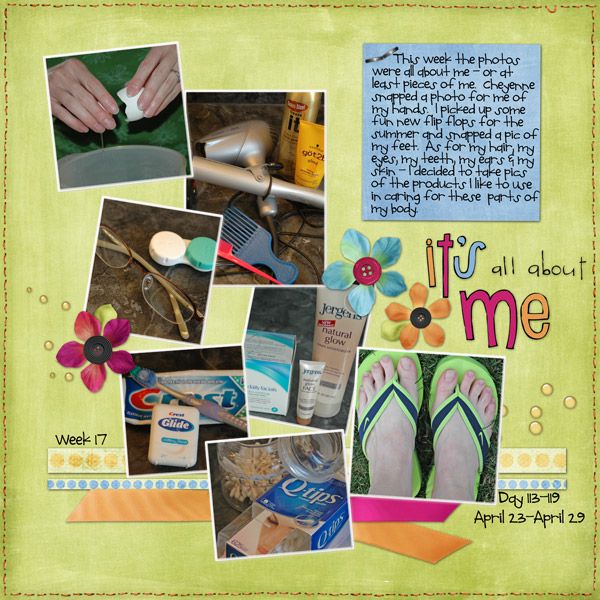 Credits for my layouts:
Project 365 Week 17 & 18 Daydreamin by Megan Turnidge, In Stitches by Angie Kovacs Digital Designs, Word Art (altered) by Stephanie2, Template (altered) by Miss Cutiepie, Staple by Flergs, Font - Wendy Sue
Project 365 Week 19 Love All Year Long by Jady Day Studio, word art Day by Day by Tracie Stroud Designs, Template by Michelle Filo, Font - Pea Paula
So this cute kit is just one of many you can download for Free. Here is the
link
to the Project 365 kits. These are all submissions in the contest So You Think You Can Design that is currently going on. You will need to register at Digiscrap Addicts in order to download but it is easy! Ok... I'll try to do better with my blogging. If I have time I'll even be back to post another entry today. Happy scrapping all!