So I told Cheyenne she would receive the same amount of money for her back to school clothes shopping as the boys get and she started to realize that her taste in clothing would exceed the budget I give her. She asked me to help her find a way to make some extra money. I designed craft projects for three classes and she will then be assembling the supplies and teaching the projects in some craft classes next week. The classes will be for girls ages 6 - 12 and will be held at our house (in the garage) on Tues. July 21, Wed. July 22, and Thurs. July 23 from 1:00 - 2:30. The cost is $5 each class or if you want to take all three the cost will be $12. There will be a limit of 10 students in each class so if you are interested call ASAP. If by chance you do not have our phone number leave me a comment here on the blog. I am posting the projects below so you can get a better idea of what we are offering. Excuse the poor photography... I have a million things to do today. Don't hesitate to call with questions either.
Tues. July 21 Box Of Fun
This box will contain 100 slips of paper - each with a fun suggestion of an activity that your child & family can enjoy doing together. This will go a long way in helping when the kids say that familiar, "I'm bored."
Wed. July 22 About Me Book
In our class we will complete 12 pages and place them in a cute binder as shown. There will be little areas for your child to fill in some text as well as to insert some photos (they will add text and photos at home). It would be fun to let your child use a digital camera to take their own photos to add to the pages when they get home. If you would rather, they could just draw pictures in the photo spaces. The binder does allow for up to 40 pages so there will be room to add more pages at a later date if you desire.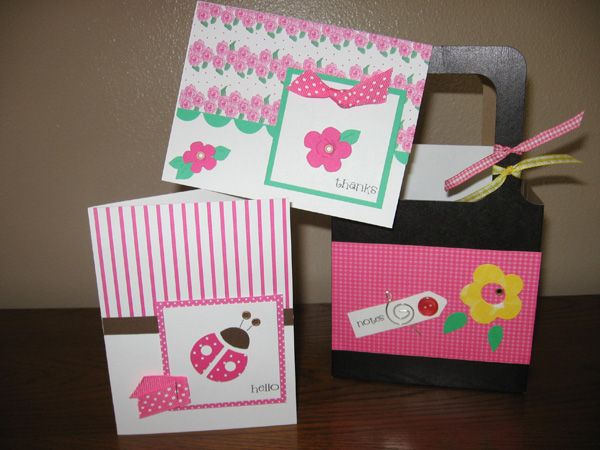 Thurs. July 23 Note Card Set
In this class your child will make a set of 6 note cards as well as a decorative box to place them in. This card set can then be used by your child, or they could give it as a gift to a grandparent or teacher.