I kept thinking I'd get a chance to blog but a whole month went by and I didn't find the time. Now I suppose I'll just bombard my blog with my 4 weeks of Project 365 layouts. We just returned home on Wednesday from a week at our Bodily Family Reunion in St. Anthony, Idaho. We had a great time with all the cousins. All but one of Clayne's sisters was able to make it. We hope that maybe next year we'll have 100% attendance. His sister Kami had a set of twins this past year and the travel would have been long and difficult. We attended the fireworks in Rexburg for Independence Day and I was greatly disappointed. Idaho Falls just has such a spectacular show that this one was not even close to being what I am used to. Oh well... next year. Now I am just trying to get things back in order after being gone so much. We had only been home for less than a week from our Utah trip - see below.
Credits for project 365 layout week 27:
Scrap Orchard July Mystery Mega
,
A Photo A Day Templates Set 2
by Chrissy W., Fonts - Do I Like Stripes, Adler
The latter end of week 25 and beginning of week 26 were spent on a Utah trip. Clayne needed to work and so I loaded up the kids and took a trip down. I took them to our Condo up Ogden canyon and then from there we made two day trips on Tuesday and Wednesday to Lagoon. We took advantage of the bounce back deal they do to make it a little more economical and I used some coupons from Deseret Book for the first day. It still was pricey enough - I used to go to Lagoon as a girl when I was growing up in North Salt Lake and of course it was lots cheaper then lol. The kids had a great time and we only lost Carson once. I thought I did pretty good keeping track of 4 kids in an amusement park by myself. After we had our Lagoon days we traveled further south and went to Clayne's brother's house near Richfield where we dropped Cheyenne off for the week. They brought her back when they came up for the reunion. It was good for Cheyenne and I to have a break from each other. Since she became a teen - sometimes there is just too much estrogen in our house LOL.
If you like the templates I used on my layouts for the past 3 weeks you can pick them up on sale right now at Elemental Scraps where Chrissy is the Featured designer for the week and has a great sale going on. You will find a link in the credits.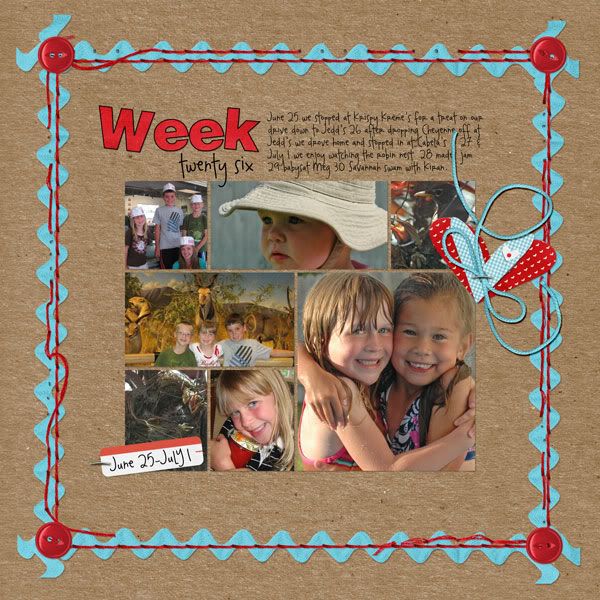 Credits for project 365 layouts weeks 25 and 26:
Lucky
by Amanda Heimann Designs,
A Photo A Day Templates Set 2
by Chrissy W., Fonts - Soopafresh, CookieNookie
For credits on my project 365 week 24 layout see previous post.