Have you been out to shop Albertsons deals this week yet? I bought all these groceries this morning (headed over there at 7 am - the early bird gets the selection). For less than $60 I was able to get 10 boxes of Fiber One Bars, 11 boxes of cereal, 6 boxes of Suddenly Salad, 2 bags of Chex snack mix, 12 boxes of Go-Gurts, 6 packages of Trix Yogurt, 3 boxes of yogurt smoothies and 4 boxes of fruit snacks. I was feeling pretty thrifty!
This photo was the final one in this week's series for my project 365. Did you know Friday was National Donut Day? The kids were more than happy for me to need an excuse to buy donuts lol. This week my bracelet arrived that I ordered from
Complaint Free World
. I just finished reading the book and decided that I really needed to take the challenge. The ultimate goal is to go 21 days without criticizing, complaining or gossiping. After the 21 days it will have become a life pattern. The literature states that it takes 4 - 8 months average to reach 21 days. I have to admit that so far it hasn't been easy but in only a few days I am already so much more aware of what I say.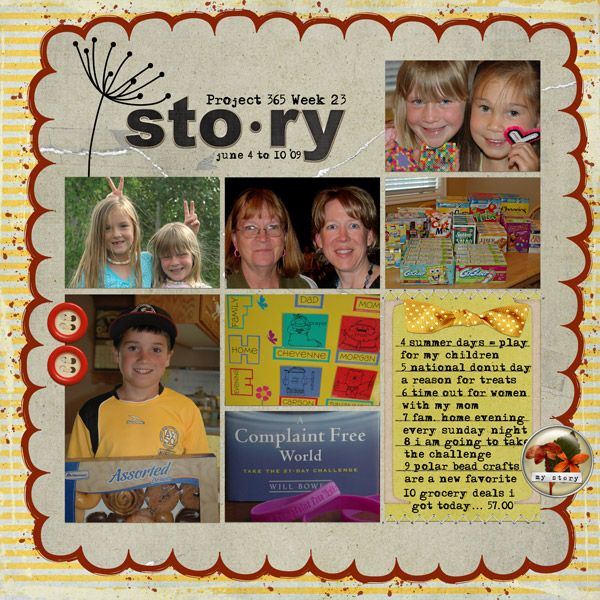 (Credits:
My New Story
by Bren Boone, Template by LizDesigns, Font - Adler)
This is a page I made yesterday. I used Chrissy's newest template set. You can go pick up this set by clicking the image below my layout. I think I'll print this layout out small and use it as a card front for Clayne's Father's Day card.
(Credits:
I Dream Of Poppies
by Bren Boone, Mixin It Up - FIVE Templates by Chrissy W, Worn overlay by Something Blue Studios, Fonts - Adler, LT Chickenhawk)