Friday night and Saturday I spent at Time Out for Women in Pocatello with my Mom. I enjoyed a break from the everyday life and time to hear spiritual music and messages. The theme was "Sweet Assurance" and they encouraged everyone there to pick one thing that they "know for sure" or one Sweet Assurance and take it home to share with those they love. Here is what I know for sure.... that there will always be darkness and bad things going on in the world but that you will find what you are looking for and there is also great beauty in the world and many good things. I know for sure that Heavenly Father sent us here to find JOY and that there will always be things in our life that can bring us joy if we seek after these things. I am determined to remain optimistic even when the world tries to tell me that the economy is bad, that nothing lasts forever, that it is raining outside.... whatever the world tries to tell me - I will stay true to the gospel and seek for the joy. Click
HERE
to find out more about the Time Out for Women event.
Here is my Week 22 for Project 365. The journaling reads:
May 28 Morgan received his Arrow of Light at pack meeting.
May 29 Savannah and her friend performed in the school talent show with the song from Annie, "I don't need anything but you."
May 30 We planted our garden starts and are now hopeful for a bounteous harvest.
May 31 This is my new hair cut that I got on Saturday. So far I really like it.
June 1 Today I spent a few hours weeding my flower bed but I hardly made a dent in all the work that remains to be done there.
June 2 Today was Carson's 10th birthday!
June 3 The last day of school and all the kids just came home and dumped their back packs on the couch. Lovely addition to the clutter - not!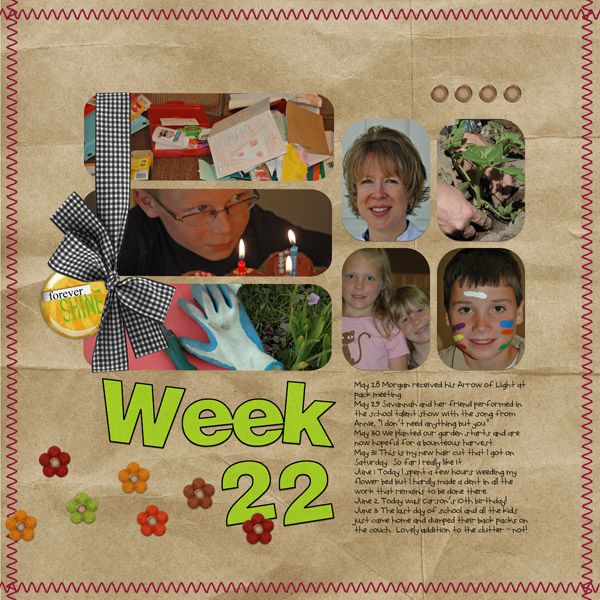 (Credits: At One With Nature by Bren Boone, A Good Life by Designer Valorie Brown, Template by Anna Jenkins, brads by ANAFLOR DESIGN, Fonts - Soopafresh, Wendy Sue)
And here is a page I made recently. I love Carson's joyful expression. It is made using a fun new kit, The Beach Collection: Surfer Dude and Hula Princess, by Ziggle Designs & Amanda Heimann Designs that you can find by clicking the image below my layout.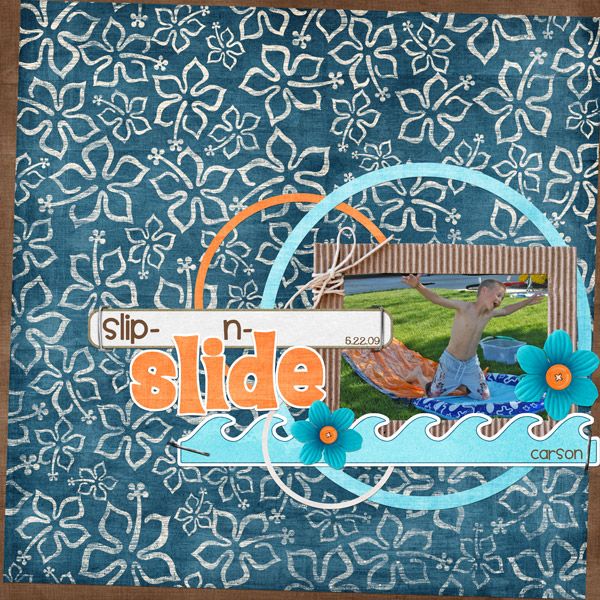 Oh and I almost forgot! My first Template Freebie was given away over on the Ziggle Designs CT Blog this last week. Be sure to head over there and pick it up by clicking
HERE
.