Finally found a few minutes to share my latest Project 365 page. I wanted to share a little more about the photos as well which you can find below as well as credits for the layout.
May 22
we have already had some very nice warm days with temps into the 80's. The kids have enjoyed playing on Slip N Slides and eating many popsicles already.
May 23
we always make a trip to the nursery over Memorial weekend to get our garden starts. We have found that if we wait that things are really picked over. Everyone seems to go out that weekend to get their garden needs. We didn't even end up planting our garden for a week after we picked these up. Well.... actually a few weeks prior we had planted our peas, lettuce and carrots but we always wait to plant our tomatoes for fear of freezing. Turns out we had no reason to wait that week because the weather was super warm and nice. We just hope that now they are planted that we will continue to have warm weather.
May 24
we have our Family Home Evening on Sundays and it always includes a treat. Sometimes I just need something easy. Do you ever make easy cookies? You just use a cake mix, 1/3 cup softened margarine and 2 eggs. Then you can stir in chocolate chips, nuts or other add ins you like. You bake them at 350 degrees for about 10 minutes.
May 25
the holiday was spent painting the Master Bedroom. I had painted it just 2 years ago. I loved the color but had used an eggshell finish and it has been very difficult to take care of. It shows all dirt including hand prints from just wearing lotion. I finally gave in and got a different finish and repainted it the same color. Lesson learned on paint finishes!
May 26
on Monday evening we decided to take a bike ride as a family. Cheyenne was not going to go with us because she said her bike was trashed from Morgan always riding it last summer. I told her that if she'd go that she could ride my bike and I'd ride hers. She then reminded me that the bike I called mine was really hers and that she wanted it now. We won the bike in a raffle when she was too little for it and honestly I can't remember who's name was on the ticket. All I know is that when she gets something in her mind - there is no changing it. I decided rather than to hear her reminders of ownership of the bike for the next 4 years that I'd just go get me a new bike and let her have it. I found this cute retro bike at WalMart for less than $100. The only thing I would have liked better is if it were green lol. It is a pretty simple bike with no gears or hand brakes but it is much more comfortable to ride than the mountain bike and should serve my purposes for the time being. Now to just find a cute basket for it.
May 27
we always spend Wednesday nights at Carson's soccer games. I really enjoy watching him play. He is a very aggressive player and is not afraid to go after the ball. It is common for him to zing all across the field. I really don't know where he gets all the energy. I'd pass out after just running the field one time.
That sums up Project 365 Week 21. I am so glad that I decided to just start taking photos of what I feel represents my day or what is going on in our family. I think it will make it much more interesting and meaningful to me.
Week 21 Credits: A Good Life by Designer Valorie Brown, Template by Anna Jenkins, Fonts - Soopafresh, Wendy Sue
I absolutely adored the photos I took of Megan last week when I was babysitting. This was her first popsicle and she LOVED it. I couldn't get the image to transfer over to my blog to show you the cute kit I used to make my page. It is made using
Spring at Last
by Chrissy W. and a few of her other products that match. You ought to go check them out while they are on sale. SO CUTE! She also has the template below available for free in her store. I used it on my layout below and just flipped it on it's side. That is one of the things I love about templates... how you can use them so many different ways. Click on the image of the template to head to Chrissy's store and get it.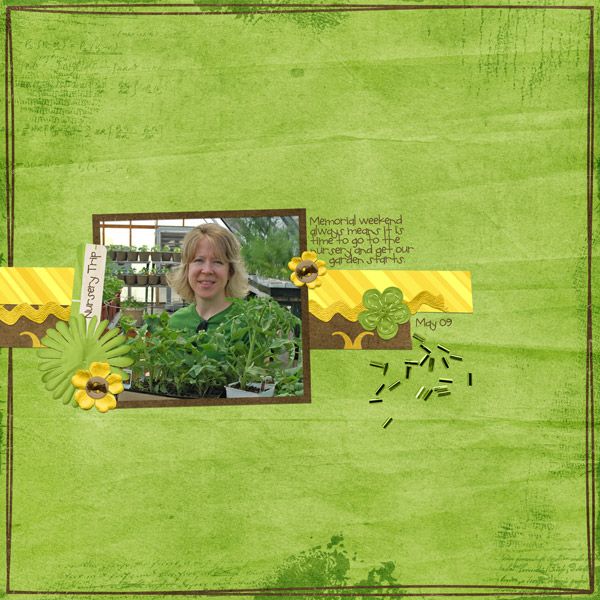 This template set was in the May Mega at Elemental Scraps. This was just a small portion of the Mega kit and these templates were made by Chrissy. I made a cute little card just for fun the other day. You can click the image below to go see the mega kit.
(Credits: A Romantic Garden by Designer Ana Amorim, Yellow and striped paper by Joyce Paul, Template (May Sampler) by Chrissy W, Font - Monster Paparazzi)
Ok... just one more thing to share.... Scrap Orchard has their new Mystery Mega available now. Until the 7th, it is only $3. A fabulous deal. You can click the image to go check it out. Below is a layout I made using the kit.
Fitting to finish this post with a Layout of my BIRTHDAY BOY. Carson turns 10 today. I better get going and get his birthday dinner cooking and frost his cupcakes. Yep.... that is Carson for you. He told me that instead of a cake he wanted cupcakes. Guess I'll put 10 of them in front of him with a candle in each for his photos lol. Here is the lil guy as a baby.