Another 3 weeks have flown by! I just can not believe how fast the summer has gone. I really did have grand visions about how the summer would be spent and we have only done a few of the things that I thought we would but hey... seems that is how every summer goes. I was reading an article in Woman's Day that asked if you are a Summer Mom or a Back to School Mom. It was really quite humorous. I guess mostly because I could so see myself in the article. If I get a chance I will post some of the article in a later post. So if you had to guess which one I am.... Which would it be?
Also I want to give a big shout out to all who supported Cheyenne's craft classes. They completely filled and we had a waiting list but no one on the waiting list got in because everyone showed up. She is looking forward to some back to school shopping with her earnings.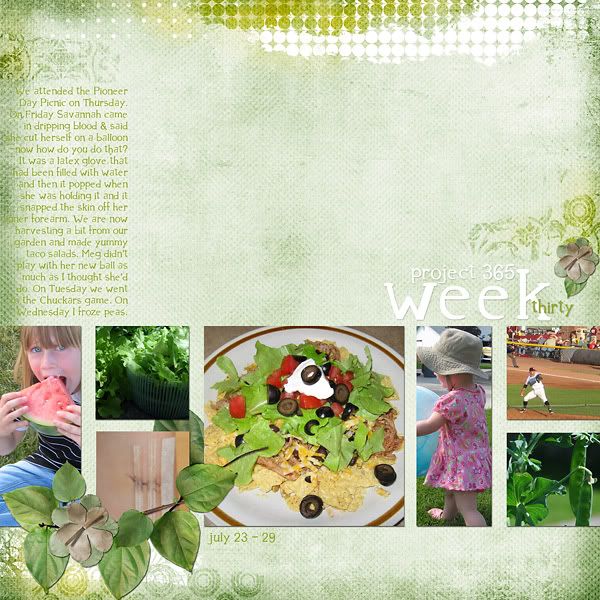 Jounaling reads: We attended the Pioneer Day Picnic on Thursday. On Friday Savannah came in dripping blood & said she cut herself on a balloon -now how do you do that? It was a latex glove that had been filled with water and then it popped when she was holding it and it snapped the skin off her inner forearm. We are now harvesting a bit from our garden and made yummy taco salads. Meg didn't play with her new ball as much as I thought she'd do. On Tuesday we went to the Chuckars game. On Wednesday I froze peas.
Credits for both week 30 & 29:
Thank You For This Day
by LCC by Amy Stoffel, template by Brooklyn Designs, Font - 39Smooth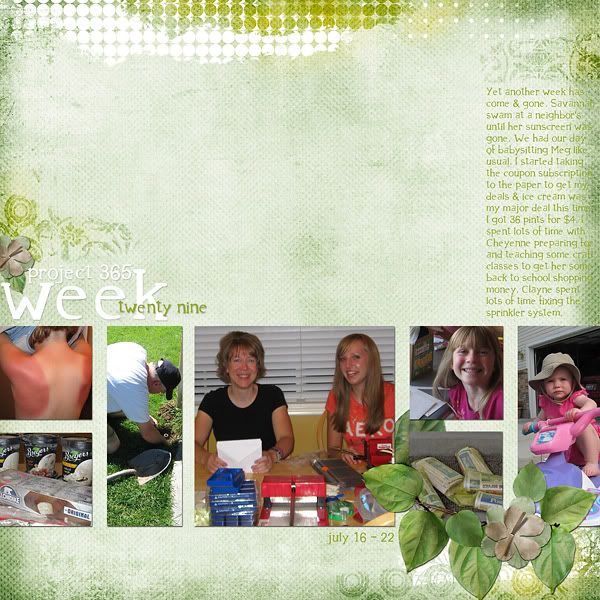 Journaling reads: Yet another week has come & gone. Savannah swam at a neighbor's until her sunscreen was gone. We had our day of babysitting Meg like usual. I started taking the coupon subscription to the paper to get my deals & ice cream was my major deal this time. I got 36 pints for $4. I spent lots of time with Cheyenne preparing for and teaching some craft classes to get her some back to school shopping money. Clayne spent lots of time fixing the sprinkler system.
Journaling reads: 9 Thurs. Went to the library with Savannah. She is a good little reader this summer. 10 Fri. Went to the drive in movie with Savannah & Carson. Saw Ice Age three. 11 Sat. Clayne built me another food storage shelf & then arranged the food for me. 12 Sun. A weird weather pattern wind blew a big poplar tree down in our back yard and that night was a lightning storm. 13. Mon. A fun day with Meg. 14 Tues. A sprinkler head broke at 2 AM and flooded the boys bedroom. 15. Wed. Finding creative ways to use Cheerios that I bought a while back for next to nothing. Since the kids are too picky to just eat them for breakfast.
Credits:
Scrap Orchard July Mystery Mega
,
Freebie 26 Template
by Chrissy W., Font - Adler
Cheerio Treats:
Bring 1 C sugar & 1 C light corn syrup to a slow boil stirring frequently. Remove from heat and stir in 1 C peanut butter. Return to heat and boil 1 min stirring constantly. Remove from heat and pour over 6 C
cheerios
& stir well. Add 1 C mini marshmallows and stir in. Spread in a cake pan and pour 1 C chocolate chips over the top. If the chocolate chips don't melt well enough pop the pan into a preheated 350 degree oven for just a few minutes & then cool completely.