Now that school's been in session for a bit over a week, I am slowly feeling a little more on top of things and catching up on some of that stuff that I had been putting off until school started. This post is not going to contain even a fraction of all the stuff I would like it to - I am going to be a realist here lol. I did want to share the photo I took of the kids on their first day back to school. It is incredible to me when I compare it with the photo I took just last year... almost 365 days ago. What I especially want to know is how Cheyenne could turn from girl to young woman in just one year! Now if the maturity would just come as quickly lol. She has been told that she can get her drivers license just as soon as she demonstrates maturity - that should be pretty safe for putting it off for a while lol.
The back to school schedule is well underway with lots of stuff to keep us all busy. I am now the Wolf Den Mother in cub scouts and held my first den meeting yesterday. Of course my two boys have scout meetings to throw into the weekly schedule too. Cheyenne continues to take piano and this year we signed up Carson and Savannah as well. Cheyenne is also going to be taking a dance class. Savannah was disappointed that her TaVaci teacher wasn't holding classes this year but she is excited about learning piano. Carson still enjoys soccer and the practices and games keep the schedule full along with Morgan's football practices/games schedule. From the time they get out of school each day until we tuck them in bed we keep very busy! I have pictures to scrap for all of these busy events... and hope I just can get un-busy enough to do so.
Yesterday Clayne and I "celebrated" our 20th wedding anniversary. I say "celebrated" that way because of course we were too busy to even do anything for it lol. Clayne brought me home some beautiful roses and when we have time I have told him that we have a date to go pick out a new wedding band for him. His is more hexagon than round and not very comfortable. We bought what we could afford when we were starting out and as I recall it was about $30 lol. Now that we have made it 20 years, I guess it is pretty safe to invest in a new band. We will also be going on a week long vacation later this month to California - just the two of us. My sister Chelsea will be coming to stay with the kids for the week. See I had my motive for babysitting my niece Megan once a week this past year lol.
Well.... I think that is a pretty quick catch up post for now. I still want to share about our last vacation we took before school started but that will have to be another day. It is almost 3:00 and so I will be playing taxi soon. Hope all is well with everyone!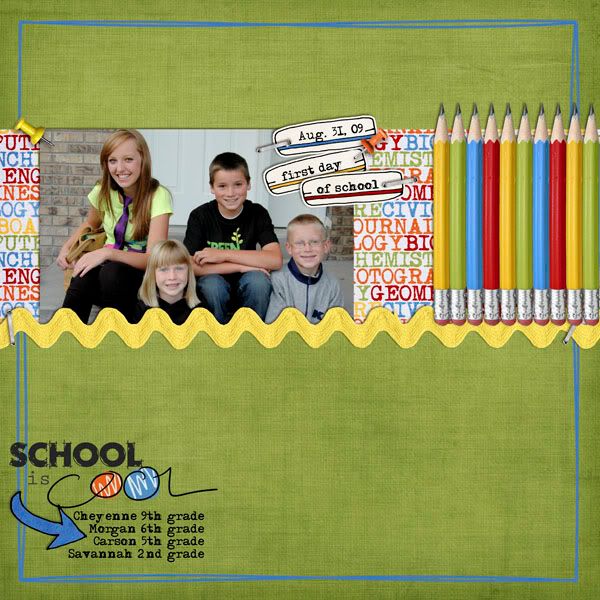 Credits:
Scrap Orchard September Mega: Rule The School
,
Template Challenge FREEBIE #29
font- Adler
Credits:
September Grab Bag
by Jennifer Fox,
You've Been Framed
by Tracie Stroud,
Doodled Paper Alpha
by Tracie Stroud
Yes... the same kids just a year ago lol!