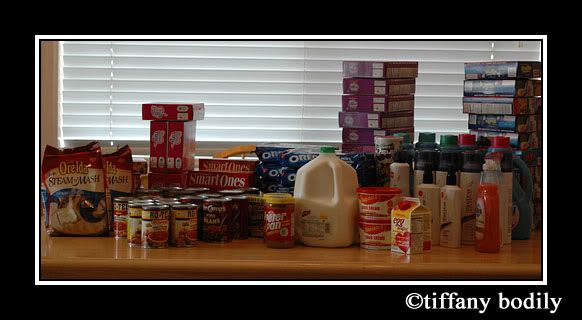 Another couple of trips to Albertsons today. I know... I need to get a life! I went early this morning to get in on the fruit snack deal where I got 25 boxes of fruit snacks for $2.50 plus tax. (YES - a dime each!!) This was by using the catalina that prints out after you buy in sets of 5 and some coupons I printed off the internet. When I was there early this morning I hadn't had time to figure out what else I could get for good deals on sale so after the kids were at school I matched up my coupons and went back and got the following 63 items for $51.98 pre tax and rolling my catalinas. I was stoked because I will be turning in my receipts for the Kraft promo for the oreos with another receipt from a prior sale which will get me a $20 rebate. My 63 items are as follows: 5 downy fabric softener, 10 panteen hairspray, 1 dawn dish soap, 1 pringles chips, 1 fabreeze, 1 gallon milk, 2 cartons sour cream, 10 packages of oreos, 8 Smart Ones frozen items, 1 egg beaters, 2 peanut butter, 1 popcorn, 2 manwich, 4 diced tomatoes, 8 rotel tomatoes, 4 pork & beans, 2 steam & mash potatoes~! I think I will send in my other receipts to Proctor and Gamble to get the $100 coupon book when you send in $50 receipts in their products. Now... hopefully I can let this sale go and do something else besides hang out at Albies... but I bet I'll find more deals to cash in on and go back before the sale ends.
I had a comment on the previous post that asked how I get so many coupons... Well, I get 5 Sunday papers each week and then I have two computers so I can usually print 2 of each coupon on each computer for a total of 4 of each coupon. I send for any offers that I can find as well as sign up for any offers that I find online that work for me. The site that is my "go to" for matching the sales with the coupons is
Pinching Your Pennies.