I had so much fun with St. Patrick's Day this year. I don't know why I haven't done more with this holiday in the past - It only seems natural for me to celebrate my favorite color GREEN! As I posted last week, I made green shamrock rice crispy treats for my scouts. I decided to try some green popcorn for the ladies I visit teach. Not only was it super cute, but it was yummy too. You can find the recipe
HERE
at Skip to my Lou. Oh and take care not to burn the green sugar coating.... yes I am speaking from experience... unfortunately I burnt the first batch and had to give it another go.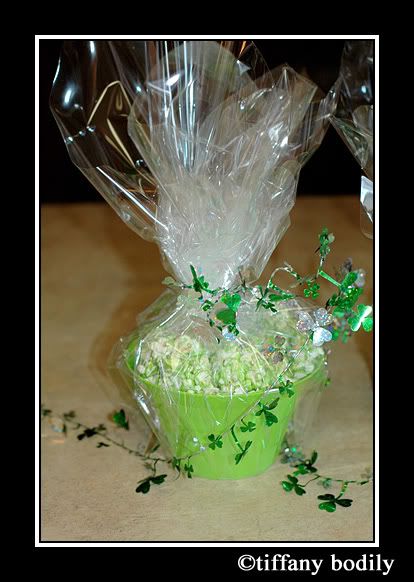 Walmart had so many cute St. Pat's shirts this year so I splurged and bought each of the kids a fun green shirt to wear. Savannah's says, "This is my Lucky shirt."
A few weeks ago I picked up these cute lime green plates, bowls & cups at the dollar store thinking I would do a green meal for the kids for St. Pat's but then I kind of put it off and had almost decided not to do the meal after all. At about 2 this afternoon I decided that I did want to do it and so hurried to the grocery store and did a little baking and it came together wonderful. I had the table all set when they came home so they'd know that some fun was coming up later. They wanted to heat the gold coins and Hershey nuggets but I assured them I knew how many were on there and that they had better not eat any until after dinner.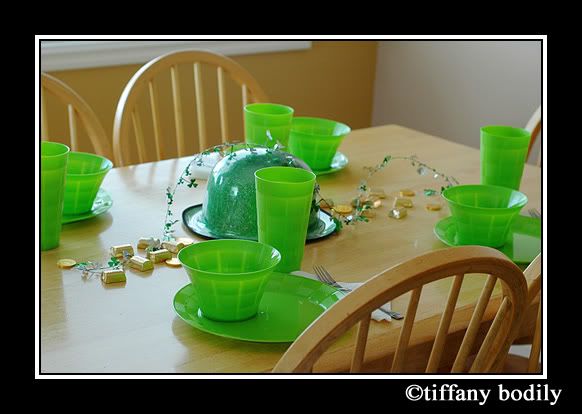 I made green cupcakes and LOVED these cute toppers that I found
HERE
at Busy Bees. The recipe for the cupcakes I am sure I have shared before - the rainbow ones - but for today I only used green food coloring.
HERE
(from Our Best Bites) is the recipe for that if you want to make a copy. My kids LOVE these cupcakes no mater what color!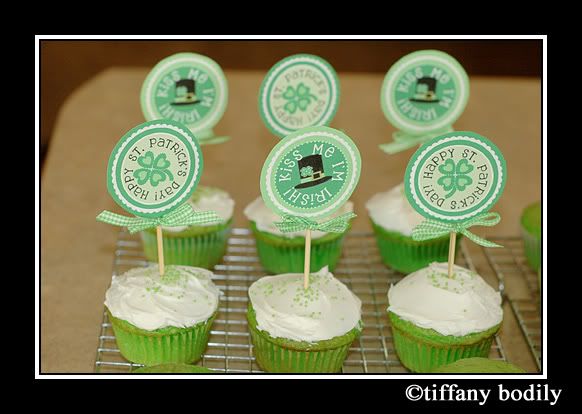 Since I didn't have much time I kept the rest pretty simple. I served green guacamole tortilla chips, green spinach fettuccine noodles with alfredo sauce (Newman's brand is actually quite good), green grapes, steamed broccoli, green kool- aid, the cupcakes & decorative chocolates. I'm pretty sure this will become a tradition because it was yummy, easy and the kids loved it!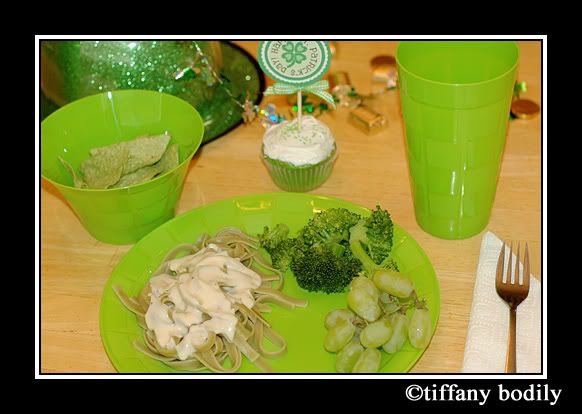 I meant to post my week 10 page earlier than this but it completely slipped my mind so here it is and you can click on it to go to my gallery and see a credit listing. I decided to photograph some of the green items I have in my house. I can't believe that tomorrow wraps up week 11. I am sure that some of the photos above will be featured in that layout.