Yeah! I finally found time to get my week 8 layout done and posted. You can click on the image to go to the gallery and read the credits if you want to.
So I haven't scrapped much the last few days. Instead I have been printing and clipping coupons to match up with the sales. I hit some good ones at Albertsons. My pretax price out of pocket on all 46 of these items was $16. I got 4 boxes of cereal, 8 bags of nut clusters, 3 cartons of ice cream, 2 macaroni grill dinner mixes, 1 cake mix, 1 muffin mix, 17 juice concentrate, 4 smart one frozen items, 1 box of waffles, 1 box of singles pizza, 2 boxes of garlic bread, 2 boxes of bagel bites! WHEW! Yes- I feel that I rocked the coupons!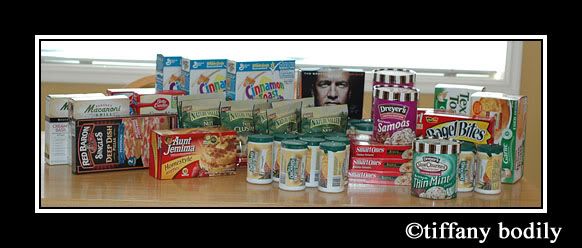 When I was shopping for fabric for my camera straps I met a darling girl, Kiama, who had beautiful fabrics in her cart. I asked what she was making and she said... bibs. I gave her my email addy and told her I wanted to see. She sells these darling bibs. They are vinyl lined so they won't stain but they are still machine washable. If you want to buy some or check them out further go to her blog
Mud Puddles & Daisies
I bought these three in the photo below. I gave 2 to my sister for my niece Megan and then I gave one to my neighbor Teresa at her baby shower. I love these!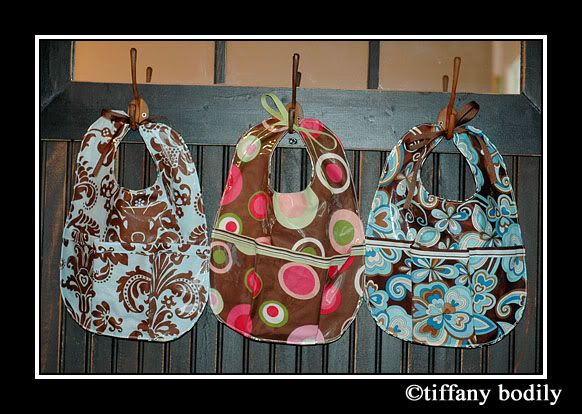 Since I felt good about my camera strap I decided to try making one of the bibs... well Kiama, you need not worry LOL. Your market is safe. I am sure you have a system and can make them much faster than I can. I am happy with how my bib turned out but I won't even post how much time I spent to make just one bib! For me your price is a STEAL! I will be picking up more when I have another baby shower to attend.
So... As I mentioned, we had a baby shower for my neighbor. I made the invitations and a friend a few streets over hosted it at her house. We had an amazing turn out and she got so many beautiful gifts for her new baby. I can't wait for her baby girl to be here... just a few weeks to wait. So fun that I will have a baby next door to cuddle but I can sleep at night. Teresa will probably tell me that she wishes I didn't post a picture of her here but I think she looks CUTE!