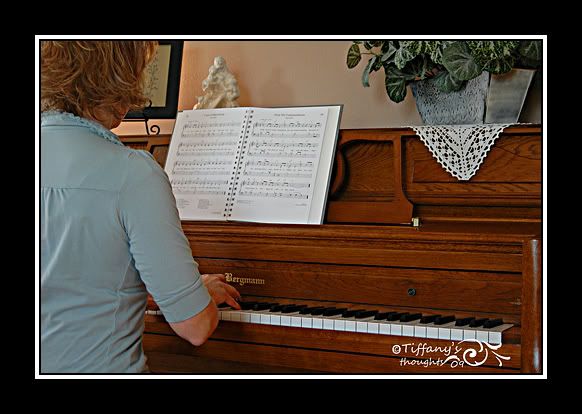 I wasn't too sure what I would be sharing this week about photography but I did notice a common thread in my photos for P365 this week. As I shared earlier, this week my photos are about my goals for this year. When I started capturing my images for my layout for this week, I noticed the need to photograph myself in many of the photos. I did have Clayne shoot one photo for me but he is usually only home at night and the lighting isn't nearly as good so I was left with the choice of having a friend come over to take my shots, leaving myself out of the shots, or trying out my self timer on my camera. I almost hate to admit that I had never used this feature on my camera and after reading the 4 short steps in my manual on how to use it I knew I had to try it out. I have to say that since I don't own a tripod I had to become pretty creative on how to set up my camera for the shots. Note to self: Pick up a tripod! (I already had decided I wanted to buy one this year but now I for sure want one.)
Maybe somewhere in the back of my mind the idea of getting in the photo was forming after browsing the email I got on Tuesday from SimpleScrapper.com They gave 9 interesting ideas for self portraits. One of which was play with mirrors. And I find that I did do this. You can read more of the article
HERE
. I need to create a creative team layout soon about myself so I will likely be trying more of the ideas to come up with something I like. If you want even more ideas about self portrait photography there is a great article at
Digital Photography School.
I think one of my photography goals for 2010 has presented itself. I think I'll be getting into more of the pictures - right after I go pick up a tripod.
Ahhh just noticed my photo stamp needs updating with the new year LOL. Guess that is something I'll add to my list of things to do.