Long time no blog... for me anyway.... Well, we took advantage of Spring Break and took a vacation last week to St. George. It was a nice get away and I have been getting photos blog ready to make a long post about our week. I wanted to post about it yesterday but then I was SICK. I am just glad that we weren't sick on the vacation. Carson was sick Saturday night and then yesterday it caught Morgan & I. We all feel better today though and I hope it is done going through our house. This is just a quick post to tell you about some great sales. Be sure to read to the bottom so you don't miss Mandy's sale that ends today. First.... here is a layout I created with the Scrap Orchard Mystery Mega kit for April. It is just $3 until the 7th and then the price goes up so get it while it is a steal. Gobs of cute cute stuff in this kit. Click the kit image below to go and pick it up.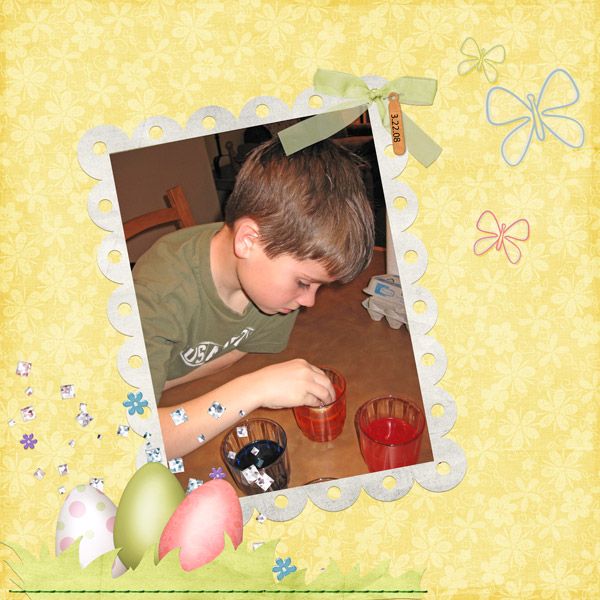 Elemental Scraps is having a fantastic $1 sale
March 30-April 4th, 2009 ONLY! Get these products now, because after this week, they will be gone gone gone forever!2009 ONLY! Get these products now, because after this week, they will be gone gone gone forever!
Click the image below to head over and check out dozens of great buys for a dollar each.
And finally.... sad news. Mandy Mystiques is going to retire from digital scrapbook designing. I am so sad that I won't be able to continue on her Creative Team and play with more great kits from her but she is retiring for a fantastic reason. She is expecting TWINS. Congrats to her and I wish her the very best. She has a fantastic deal for you at Enchanted Studio Scraps but it will end today. You can get her whole store for just $10. That will give you a wonderful selection of scrapbooking items for a great price. Of course you can pick up each kit individually over at Elemental Scraps sale for $1 each at the sale I just mentioned if that works better for you. Happy shopping and scrapping everyone. I'll be back with another post soon.