Saturday Morning, March 21, we loaded up the van and made the long trek to Sunny St. George to enjoy a week together as a family. We had hoped for the weather to be a little warmer than it was. I think the highest temp was 65 but hey... it was lots warmer than it was back home so we were happy. We just were spoiled last year at spring break with even warmer weather. Now.... I warn you this is a long post with many photos. But just remember that I didn't do daily posts so this one had to make up for it lol.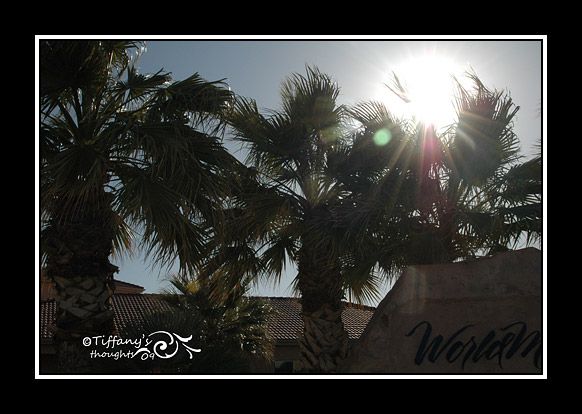 The boys were anxious to get out of the van and were happy to pose for a photo. This is my photo for Day 80 March 21.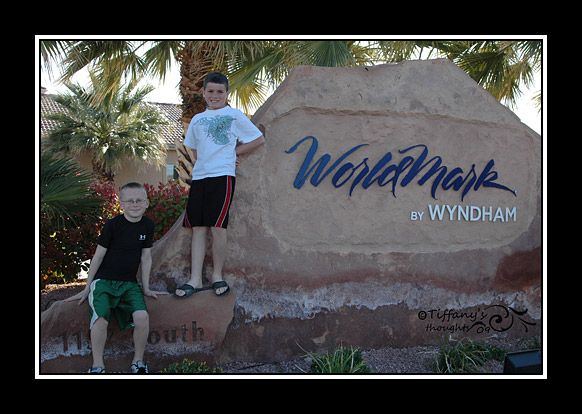 On Sunday we found a local ward to attend our church meetings and the kids were a little worried about going to primary where they didn't know anyone but after the block of meetings Savannah reported that it was just like home and that they even sang the same songs as we do at home. I love that the church is basically the same no matter where you go. After church we spent some time visiting the Temple visitor center where we watched two movies "A Mormon Miracle" and "Just a Stone cutter" they were both very good. We also walked around the temple grounds where I was able to snap a few photos for Day 81 March 22.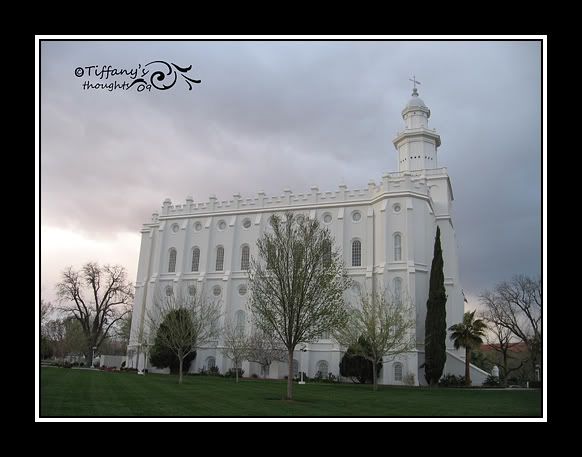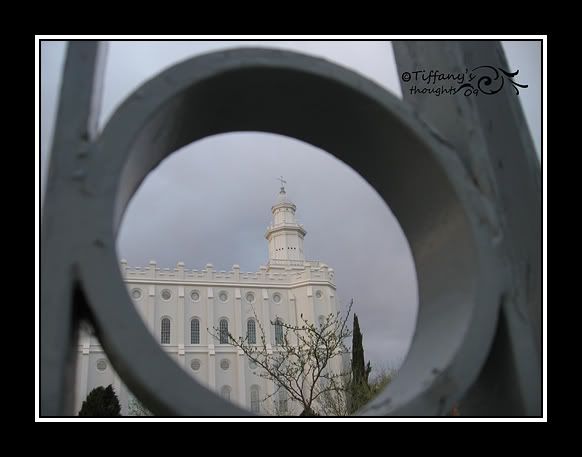 Here is where we spent most of our time while at the condo. There are actually 2 pools at this location and so we spent some time at both of them. It is nice that all the kids are old enough for the hot tub rules at the pool now cuz it was cool enough that often they had to go in to warm up. I don't know what photo I want to pick to best represent Day 82 March 23 so here are a handful of pool pictures. Savannah got a new swimsuit as an early birthday gift and did a great job modeling for the photo if I do say so myself lol.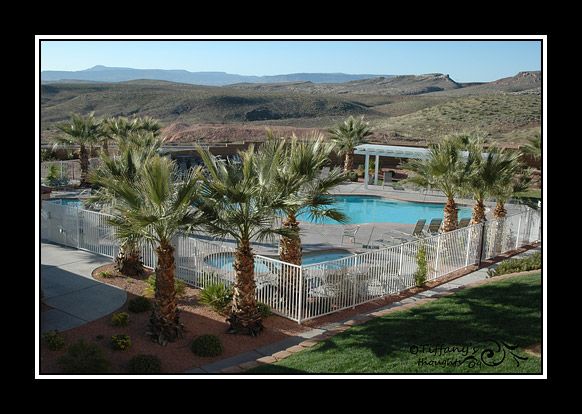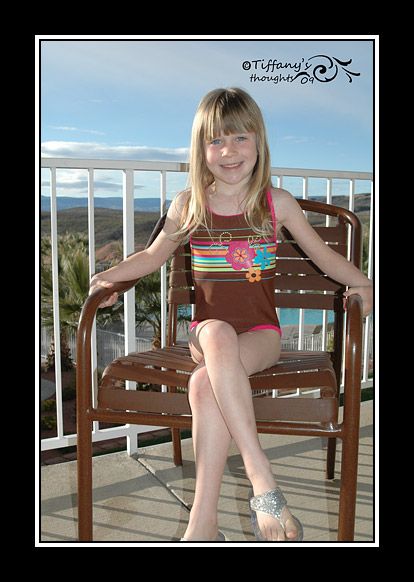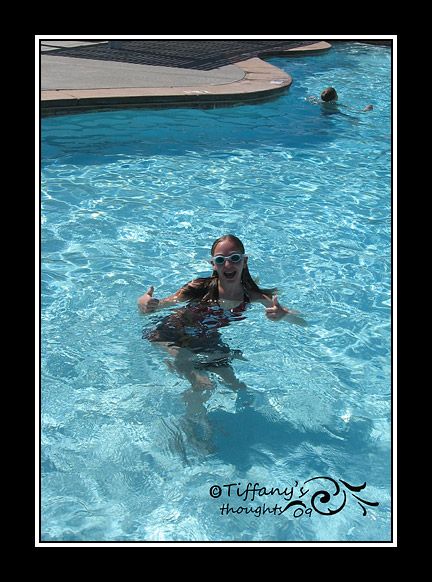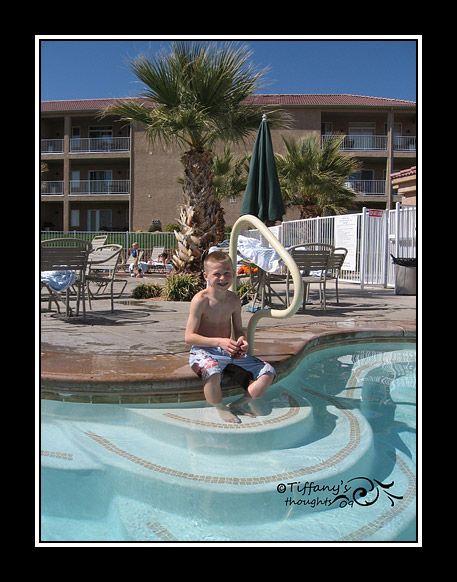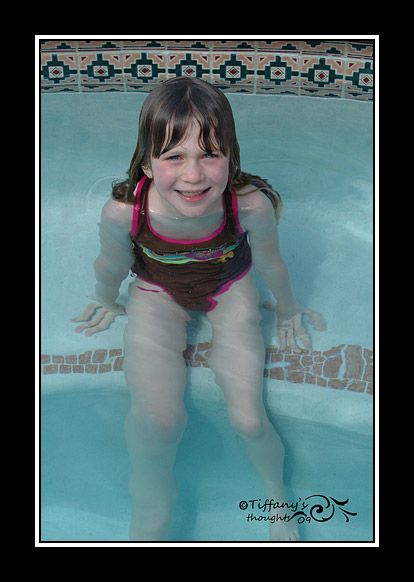 Cheyenne's Birthday was on Tuesday and here is my photo for Day 83 March 24. Rather than a cake, Cheyenne asked for a chocolate cream pie. I really don't know where the 14 years have gone. She is just growing up FAST!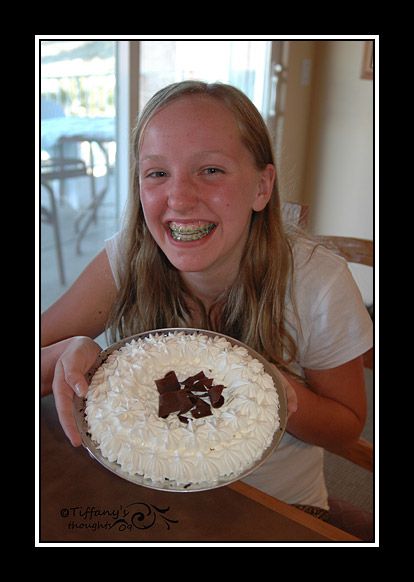 Here is a photo from Wednesday and is my pick for Day 84 March 25. I actually did go to the gym at the resort and exercised two days of our stay. Not as good as I usually do at hitting the gym at home... but hey... I was on vacation lol.
On Thursday we took in a few of the local sites. There are lots of historical buildings in St. George. This is just one of them - Brigham Young's winter home. We also visited the Tabernacle (although we were there at the wrong time to actually go inside for a tour) and the Jacob Hamblin home. (Although we didn't go to the Hamblin home until Friday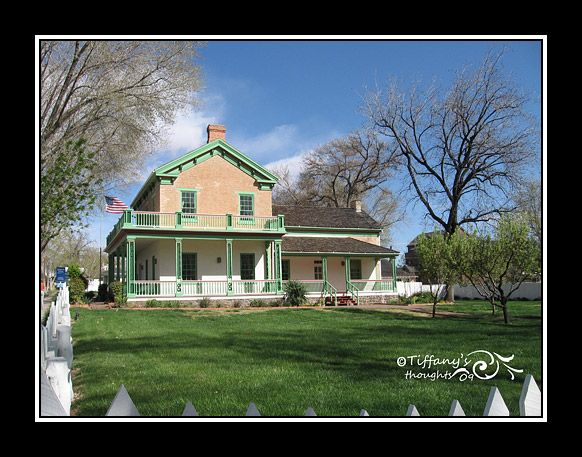 The kids loved searching the yard at the Young home for pecans in the grass under the pecan tree. Carson was able to find the most out of all my kids. He found 20 - what a NUT. I'm choosing this one for my photo for Day 85 March 26.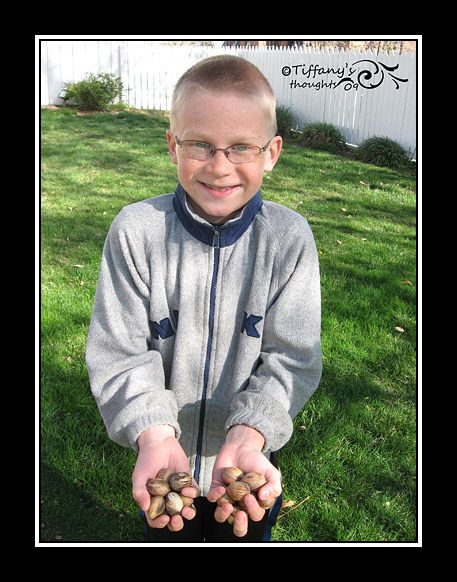 We also spent some time at the mall where Cheyenne spent her birthday money. She had only asked EVERY day while we were in St. George.... "When are we going shopping?"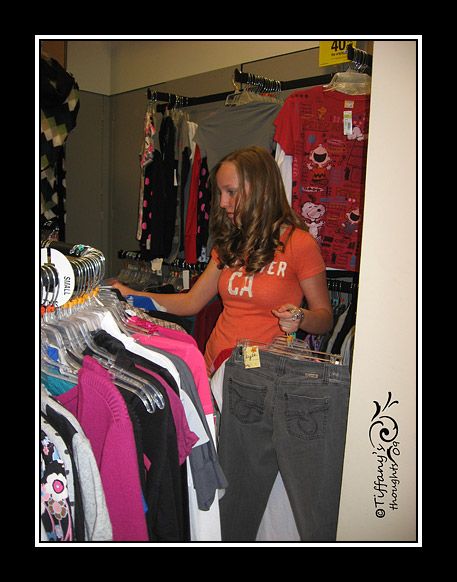 On the way home we stopped in for the night at Clayne's brother Jedd's house. Were we had fun visiting not only with Jedd and Kathy and their 2 darling girls - but we also visited their collection of chickens. I can't believe how many different ones they have and I think there are like 30 of them.
Kathy and Jedd had some fun activities lined up for the kids when we arrived. We gathered eggs and had an egg roll and a few races doing a "bunny hop" and a "duck walk" for some candy prizes.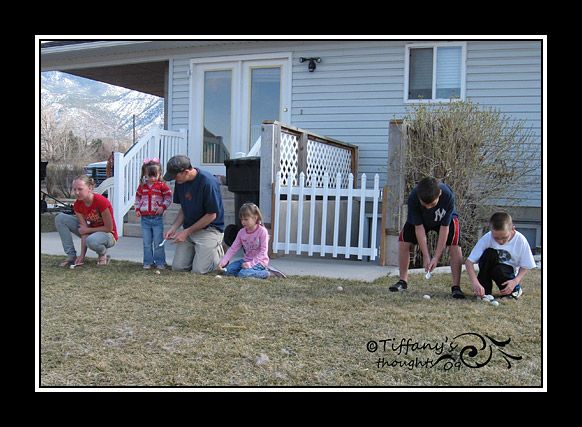 This is one of the two cute cousins that we were happy to visit. Poor little Ellen was sick most of the time we were there so we didn't get to smooch on her and play with her as much as we would have liked.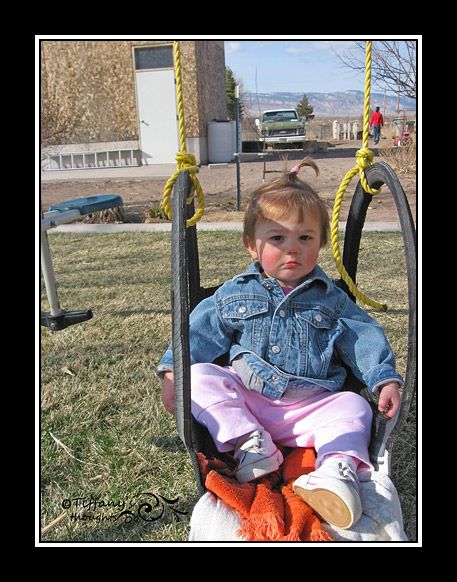 Here is my darling niece Jenny who loved having the cousins visit. It has been reported that there were some tears after we left and not just because we took home our copy of the DVD Bolt.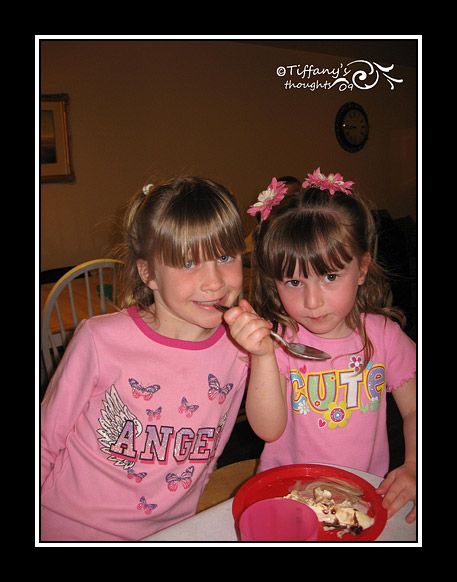 Kathy made some brownies that were to die for and she wanted both of my girls to celebrate their birthday while visiting. Here is my pick for Day 86 March 27.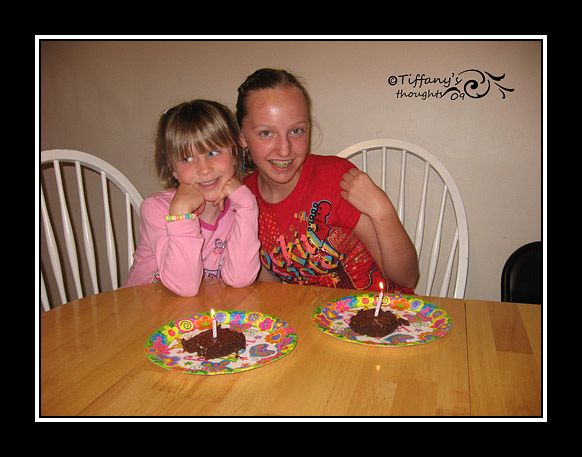 On our way home from St. George we stopped in Malad for my nephew, Walker. The poor kid doesn't like water and unfortunately he had to be immersed 3 times before his whole body went under the water. His toes just kept popping up and the poor kid was about traumatized before it was over. He is a good kid and I was happy to be able to be there on his special day. Here is Day 87 March 28.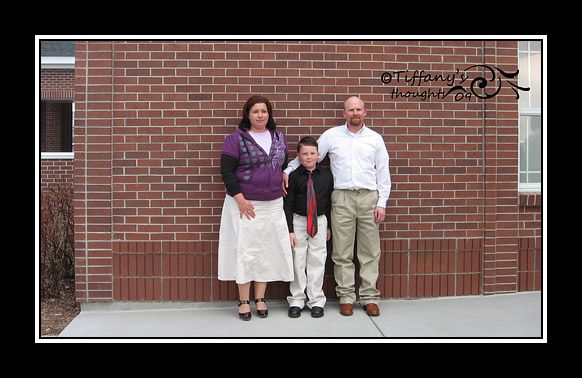 Since we were on the road all day on Savannah's Birthday, we baked a cake for her on Sunday. I can't believe that my baby is seven and in just one year we will gather as a family for her baptism. This is my photo for Day 88 March 29.
Monday was a sick day for me. I felt bad that I subjected little Megan to our flu bug but my sister had no choice since we were the ones lined up to babysit for the day. Both Morgan and I were sick. Megan kept me from taking it too easy though because she has mastered the art of walking. She is so cute and so very busy! Since other photos would have been too SICK to share for the day this is my pick for Day 89 March 30.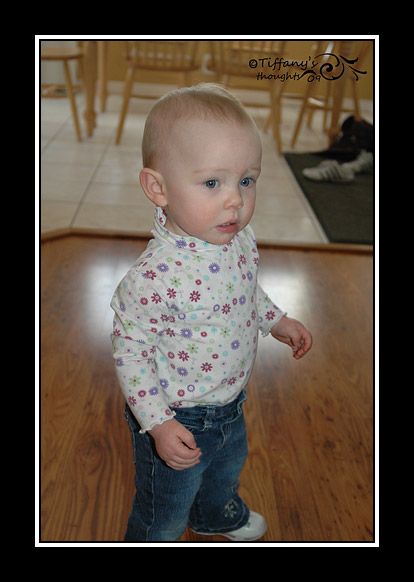 Tonight Cheyenne was inducted into the Jr. High Honor Society. She is super excited about the opportunities for service in this organization. I was super excited about her grades being high enough to be accepted. I'm so PROUD of her. This is my photo for day 90 March 31.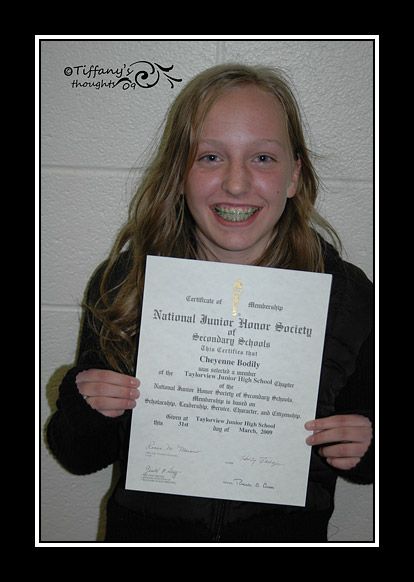 Whew.... that is a wrap. Thanks for stopping by and if you read it all and looked at all the photos.... even a bigger thanks. I enjoyed sharing our week with you.