I just can't believe that it is already December 1st. I know that December always goes by so quickly and so I am trying to hit the ground running so that I can keep up with all the festivities. I am still plugging along with my Holidays in Hand album and will be sharing my pages a day late each day for the month. Why? Well because I will be adding the photos as I go along so that the entire album will be finished by the end of the month. I won't be able to take my photos for December 1 until later when our family does the activity for the day and then I can add the photos to my page and share them tomorrow - so if you want to see what we are doing to celebrate the holiday season over the month be sure to stop in often. You can always use more ideas of family fun for the month of December... right?
One thing I can share with you right now is my new Advent Calendar that I made last week. I am so excited to share this with my kids later today. In each box of the calendar will be a paper with a scripture reference. Each scripture is one that will help us focus more on Christ. I want my children to have constant reminders of why we celebrate Christmas and to try to keep our focus on Christ this Christmas. So for this month we will deviate a little from our normal daily family scripture reading of the Book of Mormon - instead - each night we will gather and read the Christ scripture from the advent calendar and also read a holiday Christmas story. Clayne and I used to read a short Christmas story each night of December before we had children & I loved the holiday feelings I had from reading them together. When we had kids somehow that tradition slipped. I want to try it this year and see if we can get that tradition going again.
So anyway.... here is my calendar I made. I had seen another similar type on the internet this year and loved the idea but couldn't find that calendar kit around here. At Michaels Crafts I did find this one and I just took the train off the top painted the edges red and then used scraps of scrapbook paper and modge podge to add different papers to each door. At Michaels I also found the cute little figures that I glued to each door. One more thing that I found at Michaels was this little Christmas tree and a set of Nativity miniature ornaments. So in each door of the advent there will also be a little ornament that they can place on the little tree. When I was little I adored anything miniature and so I hope my kids will be just as intrigued with it as I would have been as a child.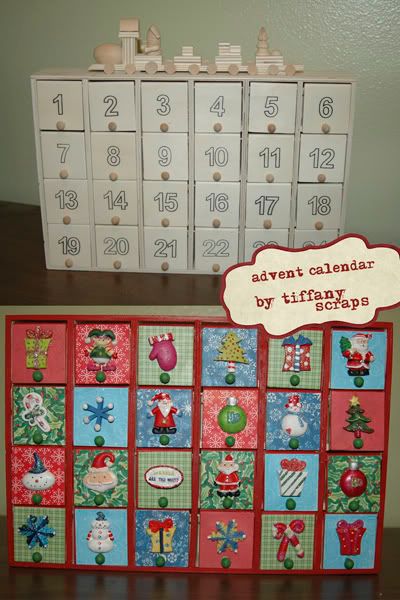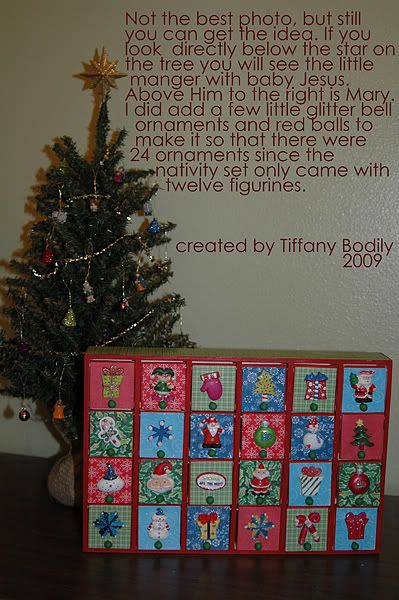 We have a few other advent calendar type things that we traditionally do and I need to go and pull them out from the holiday decorations under the stairs so I'll be back to share those - probably tomorrow. Anyway... I did want to show a few of the fun advent calendars that I found on the internet (click the images to read more about the design of them & the artist who created them) and I encourage you to create some type of count down for your family too - we have always had so much fun with it. First... here is the advent calendar that got me wanting to make the one I did.
For more great advent calendar ideas just google and find one that works for you!
Finally... I did want to share with you another "advent" of sorts. At the Scrap Orchard there will be a fun count down with wonderful sales each day AND there will also be a different 4x6 brag book page each day that you cana get for free. I created one of the pages that they will be giving away... not sure what day they will be giving my page away but I am excited to collect all the pages and have a fun little book to showcase some of our holiday memories. Click the image below to go to the
Scrap Orchard Blog
and pick up the brag book page as well as read about the great sale.