With the holiday weekend I got a little behind in my photo posting. The prompt for day 46 was something old. I don't have very many things that I have kept all the years since my own childhood. This necklace charm is one of the few things I kept. I loved Holly Hobbie. I remember having some decorative wall hangings in my room with her image as well as a little toy sewing machine that "really worked" - it was blue and had Holly on it. The other Holly thing I remember having was a little dairy that locked. I really wish I had kept that diary but when I went off to college I remember cleaning out my room and thinking it was really stupid and threw it away. I would love to be able to share it with my own kids.
Day 47 was something new. With it being President's Day and the kids were out from school and Clayne had the day off, we decided to try out a "new" family outing. We drove to Jackson Hole and really enjoyed the fabulous indoor pool there. They have two slides- this is the smaller one. The big one ended in a 3 foot pool and so Savannah could even go down the big one by herself. There is a mushroom water fall as well as another waterfall in the kid pool, there is a hot tub of course and a lap pool. They have a rock climbing wall in one end of the lap pool and it was fun to watch Cheyenne and Clayne give it a go. I am certain we will be visiting this pool again. For the whole family to get in we paid just $25.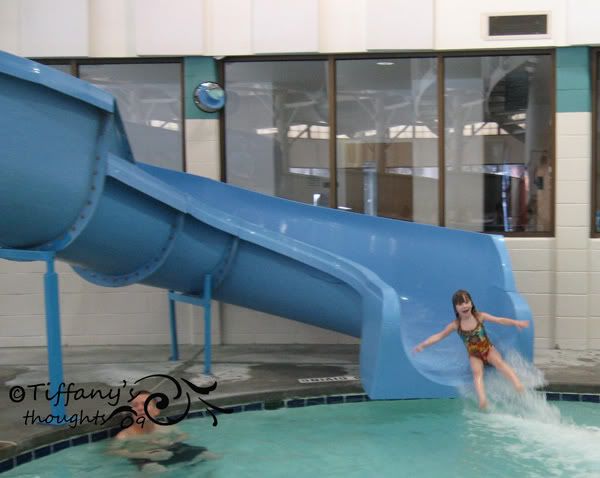 Today's photo prompt was something borrowed. Since I am done having babies, many of you know that I watch my niece, Megan, once a week to get my baby fix. She is a delight and we all have so much fun with her. I am so glad that my sister lives near so I can "borrow" her.