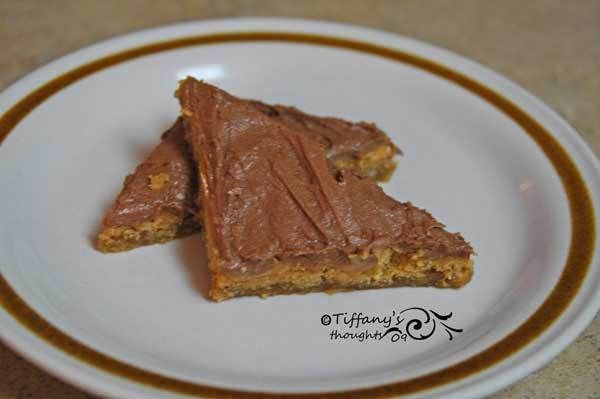 Today's Prompt: "Another shape! Go hunt down some
TRIANGLES."
Rather than a thought today I will share the tasty recipe for these.

Peanut Butter Bars
Cream the following ingredients together:
3/4 C butter
1 C brown sugar
1 C sugar
2 eggs
3/4 C creamy peanut butter
1/2 tsp vanilla
Add:
3/4 tsp baking soda
1 1/2 C quick oats
1/8 tsp salt
1 1/2 C flour
Press into greased cookie sheet and bake at 325 degrees for 12-15 minutes. Leave dough so it is still a bit doughy, but slightly browned. Cool completely. Spread creamy peanut butter on top of the bars. Frost bars with chocolate frosting.

Chocolate Frosting
1/2 C butter, softened
1/2 bag powdered sugar
4 Tbsp cocoa
dash of milk
Mix the above ingredients together. Add more milk if too thick or more powdered sugar if too thin. Spread on bars and enjoy.